Summerfield Specialty Drink - Long Beach Iced Tea 
Tap Beer- 
Busch light 
Kona Big Wave 
Golden Road Mango Cart 
Hooey by Lupulin 
Can Beer- 
Busch N/A 
Mich Light 
Mich Ultra 
Budweiser 
Loon Juice 
Nutrul Vodka Seltzer (can)- 
Watermelon 
Pineapple 
Cutwater cans- 
Gin & Tonic 
Vodka Mule 
Rum Mojito 
Tiki Rum Punch 
Strawberry Margarita 
White Russian 
Sycamore Lane Wine- 
Chardonnay , Pinot Grigio , Merlot , Cabernet 
N/A- 
Pepsi Products , Bottled Water , Energy Drink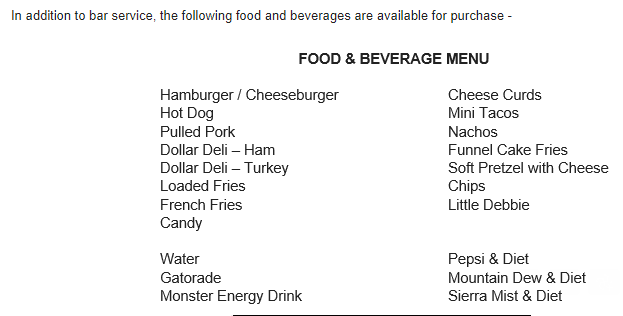 Welcome to SUMMERFIELD Amphitheater Outdoor Concert Venue!  
Our mission statement remains the same as always:  Quality entertainment at a great price with a top notch presentation.   The unique  summer of 2020 brought one very positive outcome...... OUTDOOR SHOWS AT Le Musique Room!!!!  So 2021 we are going  bigger, better, bolder and in the field!  That's right.  The parking lot was a fun place to be for the 2020 "pop up" concert series but this year the cinema will be open and therefore we will need the parking lot for parking cars.  So off to the field we go just south of the building.  Unlike last year where we used the cinema's restrooms inside, this year Summerfield will be self contained with full bar service, food, restrooms and everything you will need for a great night.  
Here are a few points of interest before coming to Summerfield. 
If you have questions we hope to have answers here on this page.  Please look here first before calling.  Emailing your questions to us at boxoffice@lemusiqueroom.com is a fantastic way to get your questions answered.  Or text us at 612-314-9199 and we will respond just as soon as possible.  
Here are some top questions and answers. 
Where can I go for I-94 road construction information?  Click HERE for all the latest MDOT details about road construction by Summerfield.  
What time do the gates open to Summerfield?  6:00pm every show night unless otherwise noted on your tickets. 
What time are the concerts over?  Sunday through Thursday shows will be over at 9pm.  Friday and Saturday shows will conclude at 10pm unless otherwise stated on your tickets.  
Is this on the grass field next to the St. Michael Cinema?  YES-  be prepared.  This is a wonderful space but it is grass.  Be cautious as ground may be uneven.  Oh, and high heel pumps may be hard to walk in.  lol
Can we bring outside coolers with food and beverages?  No coolers, outside food or beverages allowed.   
Is there food and beverages available?  Yes-  Select BAR and tap beers.  
Can we hang out in the parking lot and listen?  No- sorry.  
Are there restrooms on site?  Yes- Please do not use the cinema's restroom inside the building.
Is there parking?  Yes - please see the map below.
Whats the best taxi service there?  Christie Cab  www.christiecab.com   763.913.4889
Is there VIP Service?  Yes-  How does it work?  Details coming soon!  Please email us your request at lmrlaurao@gmail.com 
What happens if it rains?  All shows are rain or shine.  Severe weather may cause shows to be rescheduled.  Summerfield reserves the right to cancel the show day of due to weather and will notify ticket holders via email of cancellations and new show date.  
How can I reprint my tickets?  Scroll all the way to the bottom of this page and click the link to resend tickets, check your Gift Certificate Balance and more!   https://lemusiqueroom.thundertix.com/
COVID information:
Please refer to the CDC's website for the latest information.   https://www.cdc.gov/coronavirus/2019-ncov/your-health/about-covid-19.html                            
You are responsible for being COVID friendly to your neighbors.   Please see all posted regulations on the CDC and MDH's websites.  
We are looking forward to seeing you at Summerfield OUTDOOR Amphitheater! To ensure the safety of our staff 
and guests, we are asking you to assess any symptoms you may have prior to attending any events at Summerfield. 
Please review each symptom listed below and answer "yes" or "no" if this is a symptom that you are 
experiencing and cannot attribute to another health condition. You must simply answer these questions 
for yourself. 
Do you have: 
 Fever or feeling feverish? 
 Chills? 
 A new cough? 
 Shortness of breath? 
 A new sore throat? 
 New muscle aches? 
 New headache? 
 New loss of smell or taste? 
If you answered "Yes" to any of the symptoms listed above, please reschedule your event. For 
assistance in rescheduling please send an email to lmrlauraO@gmail.com.
We require that attendees self-certify that they do not have symptoms, have not been diagnosed with or had direct contact with a known or suspected COVID-19 case in the past 14 days, and will comply with the event's safety policies and procedures. 
Waiver: 
By purchasing a ticket and or attending an outdoor event automatically begins the Assumption of the Risk and Waiver of Liability Relating to Coronavirus/COVID-19. 
Assumption of the Risk and Waiver of Liability Relating to Coronavirus/COVID-19 The novel coronavirus, COVID-19, has been declared a worldwide pandemic by the World Health Organization. COVID-19 is extremely contagious and is believed to spread mainly from person-to-person contact. As a result, federal, state, and local governments and federal and state health agencies recommend social distancing and have, in many locations, prohibited the congregation of groups of people. Le Musique Room and the St. Michael Cinema has put in place preventative measures to reduce the spread of COVID-19; however, we cannot guarantee that you will not become infected with COVID-19. Further, attending events could increase your risk of contracting COVID-19. By purchasing a ticket, I acknowledge the contagious nature of COVID-19 and voluntarily assume the risk of being exposed to or infected by COVID-19 by attending events and that such exposure or infection may result in personal injury, illness, permanent disability, and death. I understand that the risk of becoming exposed to or infected by COVID-19 at the event may result from the actions, omissions, or negligence of ticket holders and others, including, but not limited to, employees, volunteers, and program participants and their families. I voluntarily agree to assume all of the foregoing risks and accept sole responsibility for any injury to my child(ren) or myself (including, but not limited to, personal injury, disability, and death), illness, damage, loss, claim, liability, or expense, of any kind, that I or my child(ren) may experience or incur in connection with my child(ren)'s attendance at the event or participation in concert programming ("Claims"). On my behalf, and on behalf of my children, I hereby release, covenant not to sue, discharge, and hold harmless Le Musique Room or the St. Michael Cinema, its employees, agents, and representatives, of and from the Claims, including all liabilities, claims, actions, damages, costs or expenses of any kind arising out of or relating thereto. I understand and agree that this release includes any Claims based on the actions, omissions, or negligence of the Le Musique Room and the St. Michael Cinema, its employees, agents, and representatives, whether a COVID-19 infection occurs before, during, or after participation in any event program.